Homeschool History Ancient Greece Overview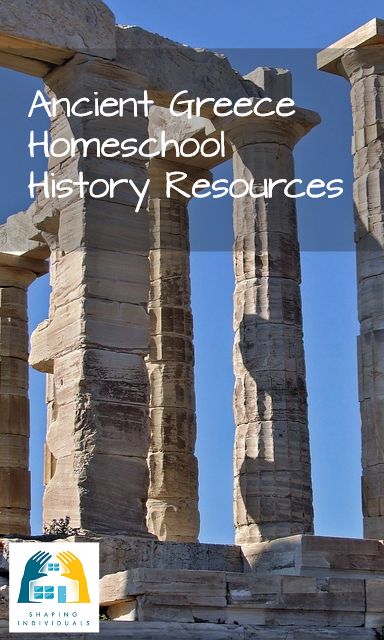 Homeschool history Ancient Greece Overview
This Homeschool History Ancient Greece Overview Page is a part of a group of homeschool history pages on Ancient Greece. There are 5 pages on DYH on Ancient Greece which can help you design your own unity study around this exciting time period: 
We have always loved studying this exciting historical time period.
We have had fun building a Trojan horse, learning Aesop's Fables, making Greek costumes, preparing and eating Greek food ... and to help you design your own homeschool history ancient Greece curriculum, I have added an overview of home school ideas and Ancient Greek resources to make it happen.
We have used most of these resources ourselves.
How to begin teaching homeschool history - Ancient Greece 
When choosing how to study homeschool history there are a number of questions you need to answer. 
For example, it is good to think about:
how much time do you want to spend on teaching history?
Will this be the focus of your studies - the base from which you derive the read alouds, choose books for your children to read, write about, incorporate art etc..
Or do you only intend to study history for a few hours per week?
If you decide to only study history for a few hours per week, you will need to choose a book which you can use as a spine and which gives you an overview of the culture. 
Homeschool history Ancient Greece spinebooks
As with the study of Ancient Rome, you can choose spinebooks as the thread that runs through the study.
During this time period, we have Famous Men Books, also ones from Christine Miller, The Story of the World and Diana Waring History series.  You can see more on the Ancient Greece  Spinebook page.
If you like, you can just choose on of those books (some come with Activity guides) - read a chapter at a time, and jump off and explore an activity;  You may make a map, draw a picture, write from one person's perspective, add your own fable, or create a play.
Historical fiction books on Ancient Greece to read aloud
Of course, I wouldn't recommend studying history without using favourite Ancient Greece living books to read aloud.  Read an exciting novel in which your children can immerse themselves into the culture, alongside a character, and your study of history will be very rich. This is the best part! That's why I have a complete page about Ancient Greece living books.  You certainly can design a homeschool history curriculum using history fiction novels intertwined with some factual books about the time period and for that reason, we love the novels by G.A.Henty.
Rosemary Sutcliff has set "Black Ships Before Troy" in this time period.
Ancient Greece historical sources
For older children (years 10-12) you may encourage them to read some historical primary sources from this time period. Of course, as in all cases, you as parents are the judges of what will be beneficial to their understanding.  In this time period, we meet Thucydides and Herodotus. Very interesting reading.
Fully integrated homeschool history approach
Another way to approach homeschool history, and this is what we have done - is to approach it in a fully integrated way.  History becomes the basis of all your studies and instead of adding on another subject, "Writing" - your writings will spring from your studies in history;  In art, you will study the artists of the time period - copy them, or produce crafts around the study; In Geography, you will create salt dough maps of the part of the earth which is being studied - identify landforms, rivers, mountains, capitals and so on. In Science, you will study the scientists who were active in that time period.  We love studying Archimedes during this study and all his amazing inventions!  
If this sounds more like what you would like to do, then a homeschool history curriculum which helps you accomplish your aims would be Tapestry of Grace - a truly integrated approach.  Sonlight is also a comprehensive integrated history curriculum.
Another way of studying the culture is to focus on where the civilization is spiritually. As one studies the beliefs of a culture, (Who is their God?), one can follow the actions and consequences of those beliefs lived out by the people at that time. TruthQuest History is a study guide with book recommendations and a commentary to bring out these spiritual truths and consequences.
What to do with mythology?
Studying these Ancient cultures also raises the question of how to study mythology. It is true that we want to teach truth, so how do include mythology in our studies? Firstly, as parents you need to decide if you will include mythology in your studies, and if so, at what age you will teach mythology.
More about teaching mythology and how you may approach it here.

Where to from here?
IDo you want to dive into your homeschool history ancient Greece unit study?  Then you are ready to embark on an exciting task of finding read aloud books, living books for different ages, curriculum and spine books to complement your study as well as Teacher resources and history project ideas.
 The box below will help you to navigate and create your own homeschool history Ancient Greece study or curriculum plan.