Homeschool History - The Best Way to Plan your Approach!
What really makes a Homeschool History Curriculum?
How do we teach History?
This Homeschool History Sitemap gives you an overview as to how to teach history. You can use this page to entirely design your own history curriculum. I describe different approaches to teaching history, history resources to use - including books, unit study ideas and so on, as well as history project ideas and homeschool history curriculum you may wish to use.

History Overview

Why study history? What are our goals?

Should we study it chronologically?

Read the History Overview here

Approaches used in Teaching Homeschool History
Unit Study Approach

Unit Study Approach
Living Books Approach

Living Books Approach
Chronological


Chronological Approach
Spinebook
Using a Spine book
Curriculum
Using a Curriculum
 History Notebooking
Using Notebooking Pages
Homeschool History Resources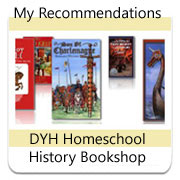 The DYH Homeschool History Bookshop lists my favourite read alouds, great reference books, living books for different ages, history spinebooks, primary sources, hands-on-projects books, overview books and unit study materials through the different time periods. 
If you're keen to teach history, you will love this comprehensive coverage of the time periods - and as a warning to you.... you'll find that the study of history can take over your homeschool life! We did! 

Fun History Day Projects
History really comes alive when you live it out! 
Have fun, be creative, make some costumes, plan a feast, invite some friends and live out the time period.
Play games of the time period, eat the food of the historical period being studied, write speeches and dramatic performances.  Above all, live it and enjoy!

Homeschool History Curriculum
Historical Fiction Novels
Where to from here?