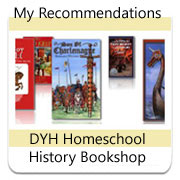 The DYH Homeschool History Bookshop lists my favourite read alouds, great reference books, living books for different ages, history spinebooks, primary sources, hands-on-projects books, overview books and unit study materials through the different time periods. 
If you're keen to teach history, you will love this comprehensive coverage of the time periods - and as a warning to you.... you'll find that the study of history can take over your homeschool life! We did! 

The Links here bring you to the Overview Page of each time period.
The Button on the left brings you to the History Bookshop outlining all the history pages.
Coming...

Unification and Colonization (1836-1914)
The World at War (1914-1949)
The Modern World (1950- present day)